Smart carpools make it easier for UCVTS students to play sports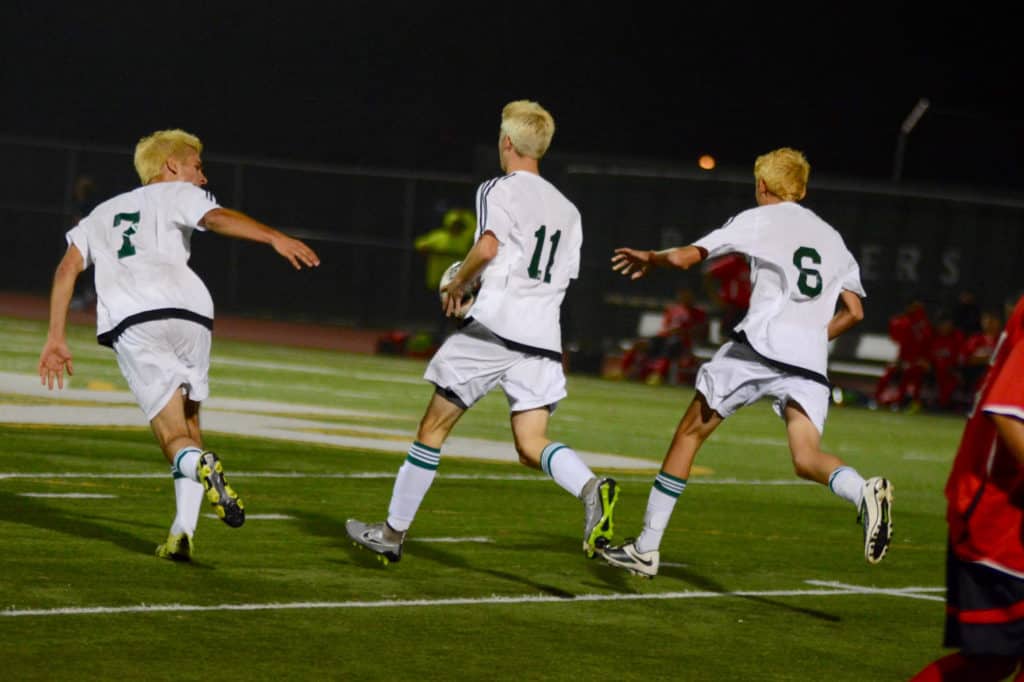 UCVTS Smart Carpool helps teens play sports" width="1024″ height="682″ />We had heard it wasn't practical for Magnet school kids to play varsity sports. Even kids with the talent and skills dropped out. Puzzled, we dug deeper. My husband found the culprit. The daily bus from UCVTS to our local high school arrived 50 minutes after our local high school's day ended.  With 3 kids, 3 schools and lives of our own, a UCVTS smart carpool was our only hope.
Challenges to playing varsity
For away games the team bus waits for the UCVTS student-athletes to arrive before leaving our home town high school. As a result, our team arrived late for games. Due to schedule constraints the referee sometimes starts the game without our team having a chance to warm up. We lose the game. No player wants to feel like the team might lose because of his participation. The UCVTS student feels bad and either drops the sport or asks to be moved down to the Junior Varsity (JV) team. While losing may matter less for a JV team, it definitely matters for varsity.
The problem – pre-carpool logistics
UCVTS dismisses kids at 2:50 p.m. Kids from all 5 Academies walk to their sending school district bus that then brings them to each home high school. New Providence kids arrive about 3:35 p.m. Students can then participate in home district sports and music programs. Most of our home district club meetings are already over by then since New Providence High School (NPHS) dismisses at 2:40. On most days, student athletes then change and join their teams about forty-five minutes through practice.
Previously, NPHS allowed parents to transport only our own children to and from away games. To do so, each time we had to fill out a transport permission form and have it signed by the Athletic Director. Then the parent checks in with the coach when dropping off or picking up their student. Many high school events are in the afternoon and can be far away. As a result, driving our own kids to every away game is time consuming.
Our solution – a UCVTS smart carpool
A carpool eliminates the delay. The kids all bring their uniforms and gear with them in the morning and change after school. One parent driver leaves home about 2:15 and arrives at UCVTS by 2:50 to pick up the kids. For away games and meets, the parent drives them to the game location. Since the team has to load water and equipment, the UCVTS car pool often beats the bus. The driving parent stays with the kids at least until the rest of the team arrives. Kids stranded once would end the car pool quickly. Then the driver either goes back to work or stays to watch the 4p.m. game. Afterwards, our kids ride back to school on the bus with the rest of the team. With 1 away game a week and 4 kids in the carpool, each parent drives once a month.
Arranging the all important paperwork
In order to make our UCVTS smart carpool work for student athletes, we needed special approvals from our home district, New Providence. Our carpool organizer, my husband, spoke with our sending high school's athletic director and worked out an alternate arrangement.
At the beginning of the sports season each family in the carpool fills out a version of the official transport form. We give the name of each potential parent driver, including the make, model and license plate of each car that might be used to transport students. We also name the other drivers in the car pool in order to give each of them explicit permission to transport our own children. Only once all of the paperwork has been submitted and approved by the our athletic director, do we add someone to the carpool.  We play by the rules.
Smooth the way with a get-together
A friend's son attended UCVTS for 2 years without a single carpool. It is a 40 minute round trip, without traffic. Even though the kids knew each other from the daily bus, most parents hadn't met. I hear similar stories from neighboring towns: Robotics. Swim team. Tennis team. Parents make the drive daily so their kids can participate. We solved the logistical problems with a Smarter Way to Carpool, as detailed in a recent post.
Since we were forewarned we held a "get to know you" BBQ the Spring before Freshman year for incoming UCVTS families from our town. Luckily, this facilitated 7 different carpools the following year as our son tried out many activities. For example, our Freshman soccer carpool made it easy for kids to stay with the sport. When new UCVTS students wanted to play soccer the next two years, they joined our established carpool. UCVTS kids could happily play JV or Varsity. They didn't have to drop out because of logistics.
Encourage experimentation, independence and leadership
Our carpool system helps our kid's take the lead. Find the 8th graders who will attend UCVTS, teammates or club members who might want to carpool. Now that our youngest is finishing middle school, she does much of the organizing and explaining for us. Having watched us and her older brothers certainly helped.
Teamwork makes the dream work
The camaraderie and goodwill will save you when we miss key information because we aren't in school with the others. For example, ordering a tuxedo for the music ensemble; switching from home to away uniforms; the away scrimmage that was a full day tournament – a child wakes up late, skips breakfast, doesn't know to bring lunch and has no money.
Since the car pool is extra work for the parents, my rule when driving is that the kids have to talk to each other or to me. Our crew could be very quiet even though I'd known many for years. Occasionally if a student forgets something at home, then we text and drop it at the driving parent's home beforehand. Finally, if I bring a snack in the car, then I bring something for all. The other parents seem to have done the same.
Life is a team sport.  We win by working as a team.
Live by example
What better way to prepare our kids for a world of rapid technological innovation than to live our lives as positive examples? Add your teenagers to the Google Sheet directory that affect their lives. Empower our kids. Ask them to pull up the directory for a phone number, address, or who's driving today. Breakthrough innovations are often common sense combinations of several technologies born of necessity. Let's embrace change in our family's lives and set our kids up to succeed in tomorrow's world. Smart carpools are a small, easy step along the way.
Action plan – What about your town?
We achieved our goal. Smart phone car pools made our lives much more livable. This system made it possible for our middle and high schoolers to experiment with a wide variety of activities and leadership positions as they wished. What has worked well in your town?  Questions welcome in the comments below!
SaveSave
SaveSave
SaveSave