Safe routes to New Providence High School and Middle School
NPHS / NPMS MAIN ENTRANCE – As of the 2022-2023 school year, the Front Circle is closed to dropoff traffic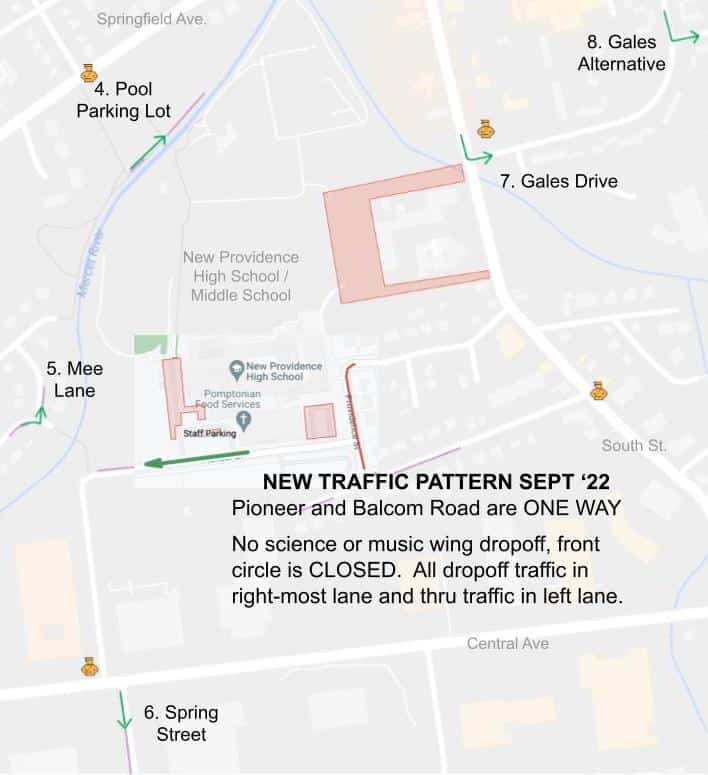 (excepting buses.)  Instead Pioneer (and Balcom) are now one way streets.  The right-most lane of Pioneer alongside the school facility is a DROP OFF ZONE of ~30 carlengths.  The first car should pull all the way forward, past the front circle exit, before stopping and discharging passengers.  Then after carefully checking traffic, merge into the left/through lane as the rest of Pioneer and the first part of Balcom now allow parking in the rightmost lane.  Toward the end of Balcom, the parking stops and there are once more TWO LANES – one to exit right onto Central and one for making a left hand turn onto Central.
The MUSIC WING and SCIENCE WING drop-offs are no longer permitted.
DROP-n-GO

only
Our DROP-n-GO's are safe locations where a parent can drop their child at New Providence High School (NPHS) / Middle School (NPMS) and go on to their destination.  They are a short distance from school, often in view of a crossing guard and along a sidewalk.  They enable the driver to avoid congested areas. PARK-n-WAIT's are 4 less crowded places to meet.
NPHS / NPMS off-site DROP-n-GO's and 4 less crowded places to PARK-n-WAIT for your student.
DROP-n-GO
or
PARK-n-WAIT
POOL PARKING LOT – Traffic enters from Springfield Ave, North of school. Drop students near bridge. Snow plowed for students.
SPRING STREET – Traffic coming from the South.  Please no U-turns. Students exit onto sidewalk. Use crossing guard to cross Central and Balcom. Walk along Balcom and Pioneer to New Providence High School &  Middle School.
MEE Lane – Traffic coming from the West. No sidewalks, so students should exit on the same side of the road as the school bridge! Miss the traffic completely. Drivers should watch until your student has crossed the foot bridge.
GALES Drive– Traffic coming from the East. Turn onto Gales, go a few car lengths forward, and have students exit right onto sidewalk.  Within sight of OLP (Our Lady of Peace) crossing guard.  Do NOT use OLP parking lot!
Alternative Gales – Traffic coming from the East.  Location is NOT within sight of the OLP crossing guard, but has a direct sidewalk to that guard. Turn off Gales onto 5th street and have students exit right onto the curb PARK and WAIT.
If you want a printed version for your car here is your PDF version NPHS / NPMS DROP & GO Handout [OUTDATED!]
In a hurry?  Our tips
Pull ALL the way forward during drop off to allow more cars to drop off at once during periods of high congestion.
Turn right instead of left.  It's faster.  If there is a line of cars behind you, then consider turning right instead of left –  Especially when exiting Balcom to Central Ave or High Street to South Street
Drop off your students earlier.
Use a 

DROP-n-GO

or

 PARK-n-WAIT – See our 8 options above.
Have your child walk or bike. 
Avoid the front circle a few times a week and overall traffic will improve.
Ten ways to reduce school traffic next September provides detail.
Help us win free money!  #WalkNP
We win Safe Routes to School Grants by demonstrating that we use our sidewalks to folks who have never been here.
Take a picture of your family walking to or school, preferably excluding kids faces.  Walking Wednesdays or any day.
Document your walk or roll with #WalkNP and post to Instagram, Twitter, or Facebook.
Report obstacles and hazards through the borough website's contact us page.
Think an intersection on your route could be safer, but the solution is expensive?   Prove it with pictures, bring state and federal tax dollars home, and win our next Safe Routes to School grant.
For the last grant, state officials said we had the best documentation that they had seen!
Useful Safe Routes to School Links for town
Background on New Providence High School and New Providence Middle School
New Providence Middle School & New Providence High School are co-located 
35 Pioneer Dr
New Providence, NJ  07974-1515
NPHS Phone: (908) 464-4700
NPMS Phone: (908) 464-9161
Public | Grades: NPMS 7-8,  NPHS 9-12
District: New Providence School District
New Providence is home to 12,000 residents within 3.6 square miles in northwestern Union County, NJ.  The school is located in a residential neighborhood, in the middle of town.  All students live within a 2 mile radius. New Providence High School and Middle School shares facilities.
2016 Enrollment
Middle School ~370 students
High School ~675 students
2019 School Hours:

Middle School 7:55 am to 2:40 pm
High School 7:44 am – 2:46 pm
Building opens at 7:15 am
District: New Providence Board Of Education
Special Needs:  The district's high school and middle school special needs programs are co-located in the main school building.
SaveSave
SaveSave
SaveSave
SaveSave
SaveSaveSaveSave
SaveSave
SaveSave
SaveSave
SaveSave
SaveSave
SaveSave
SaveSave
SaveSave
SaveSave
SaveSave
SaveSaveSaveSave
SaveSave
SaveSave
SaveSave
SaveSave
SaveSave
SaveSave
SaveSave
SaveSave
SaveSave
SaveSave