Kids see real robots using skills they programmed Lego robots to do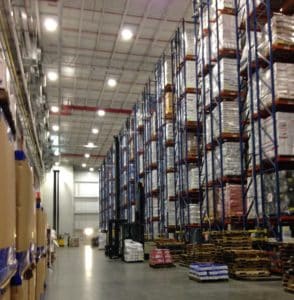 A recent JerseySTEM Trip to Preferred Freezer Services enabled students to experience real world applications of the robotics skills they've been learning with LEGO Robotics, math, and science.
Headquarters
On the bus students applied their math skills to estimate savings from switching to more efficient LED light fixtures.  We began our JerseySTEM trip at World headquarters in Chatham, NJ.   Lunch and stuffed polar bear mascots accompanied a presentation by senior management. They drove home 3 points:  
Study math and science in school
Choose good friends and
Be the best at whatever you do
The founder, John Galiher, worked hard in school and gained a detailed understanding of refrigeration. He then spent 10 years experimenting and innovating at his first location. He kept trying to be the best (rather than the biggest or the cheapest).  Then he used what he'd learned to develop a standard cube-shaped-warehouse. It was the size of a football field with stacks of pallets extending 60 feet high.  Once perfected, they expanded this blueprint to over 30 facilities worldwide.  The temperature in the main warehouses is below 0 F while the loading docks are about 40 degrees.
Supply chains came to life as we traced the refrigerated journey of shrimp from Vietnam and potatoes in Washington State to kids in NJ. With Preferred Services commitment to state-of-the art technologies they developed smaller rooms within the larger freezers. For example, they can keep ice cream at the optimal 20F below freezing and high grade sushi tuna at 76F below.  We then watched a corporate movie shot in part with a drone!
The Preferred Freezer Services warehouses
Armed with this new knowledge (and mini-polar bear plush toys & ice-blue drink cups) we hopped back on the bus to their Elizabeth warehouse locations to see it all in action.
The older of the twin warehouses shelters pallets that are sometimes broken down when customers want only a few boxes at a time.  It tends to have high value items such as seafood.  As a result, employees drive the specialized fork lifts instead of robots. Preferred Freezer Services spreads each customer's merchandise throughout the warehouse. Surprise! This makes it easier to quickly pick a particular order.  We donned warehouse workers'  heavy coats and experienced their very low humidity, cold working conditions. No wonder employees prefer to let the robots work in the 0F to -76F warehouse!
In contrast, the newer warehouse is for unbroken pallets. These are primarily of lower value items such as bread and the kids favorite, french fries. While the loading dock has people, the actual warehouse is completely automated with robots. Workers and visitors can only view it from within a mesh screened viewing area, making it much safer.  The robots read bar codes every eighth inch to tell where they are, similar to the light sensors we'd used on our LEGO Mindstorm robots.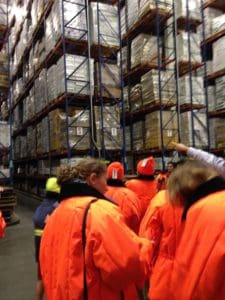 We got to see for ourselves the innovations in doors and smaller size of mechanical plant and the control screens for the robotic cranes.  We had planned to visit a third location, but the kids had so many great questions, that we ran out of time.
Kids eager to return for next JerseySTEM trip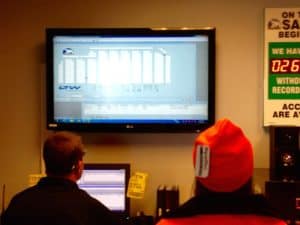 Once we'd returned home, I asked the kids for their "roses, thorns and buds" for the trips.  For their "roses" the kids expressed how they'd loved the trip. The only thorns were jokes about the cold and the summer heat as we sat in the grass.  Their buds surprised me.  They all wanted to go back and learn more about the business and programming the robots, even after a 5 hour field trip.
If JerseySTEM is lucky enough to offer a trip to Preferred Services again, then I highly recommend it.  It was tremendous for the kids to see why it is so important to work hard to deeply understand Science, Technology, Engineering and Math.
For more information, check out this excellent article from TAPinto.net
JerseySTEM Students from New Providence Visit Preferred Freezer Services – New Providence NJ News