Creating a route home to every New Providence neighborhood
It's a common occurrence. A concerned parent contacts officials about a hazard on the path to school. The concerned parent suggests a solution such as [ sidewalks | crossing guard | police presence | staff escort for students | signage to direct traffic flow ].
Even when justified, these things take time and money not immediately on hand.  How to prioritize?
In the New Providence School District, one partial answer has been annual surveys. Participants volunteer information about their path to school, including problem spots. Shared with police, borough and administrations, this information has helped pinpoint areas needing improvement.
Then, we created our first district travel plan. for 2016-2018 and again for 2019-2021. Among other items, this included mapping out "routes of travel" for all residences' to district schools. By looking at everyone's approach – which busy streets they crossed and how – we discovered something unusual!
Neighborhood Can't Reach Their Crossing Guard!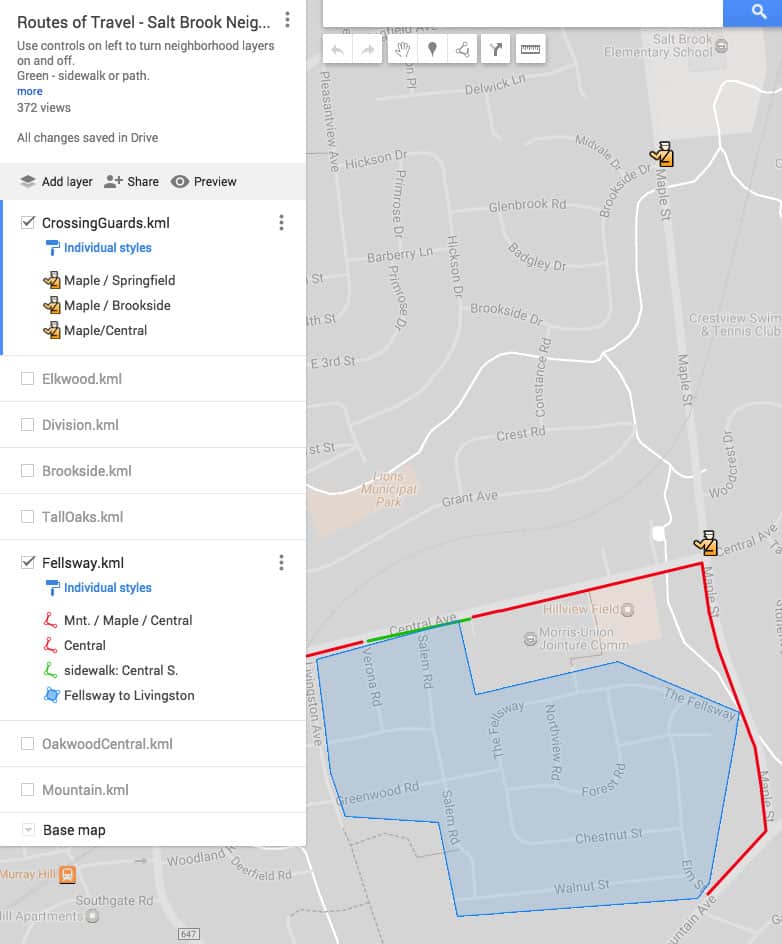 Frequent survey participants, the Greenwood/Fellsway Walking School Bus families had previously documented many concerns. In the image above, you can see that they don't actually have "safe" routes of travel to Salt Brook (SB) school. [SB located upper right corner] What the routes of travel maps made obvious was that they had a very safe route to the Central Avenue school, a school they no longer attended! The short green sidewalk along Central stops at the old school grounds, but it does not reach a cross walk. Even though the neighborhood has a crossing guard at Maple and Central, students can't get there! Sidewalk access was never updated when the borough went from four elementary schools down to two!
Long, Winding Route to Allen W. Roberts (AWR)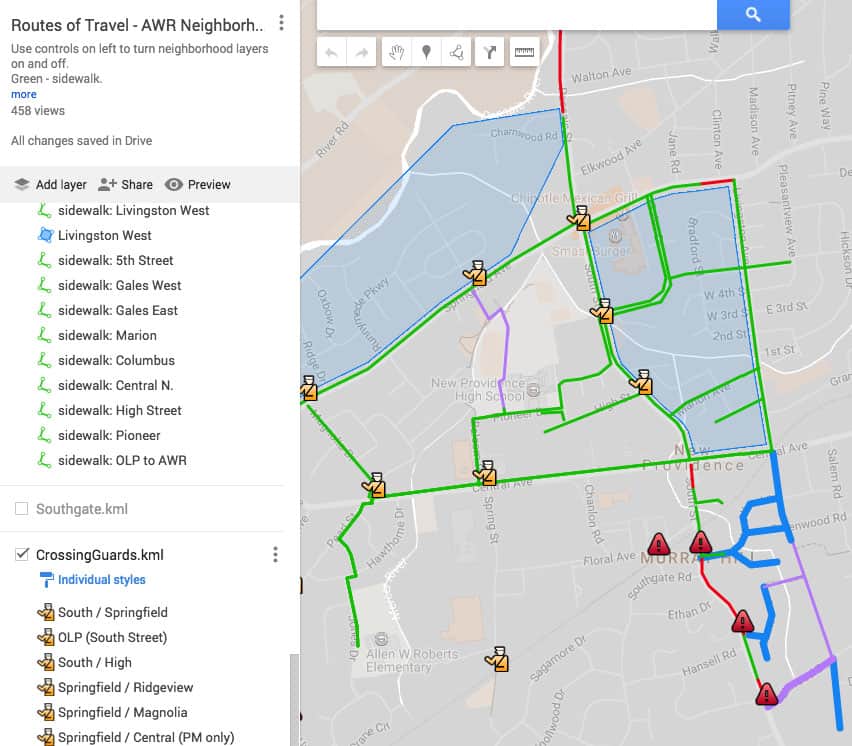 We saw a similar effect  on the other side of town. Neighborhoods that once attended Central or Lincoln schools now had a long path to AWR.  [AWR located lower left corner] For some, the only routes of travel involved the Livingston Path – not a feasible, year-round solution. As you can see from the above map, many neighborhoods' safest path filtered through a single crossing guard. This is because the only sidewalk approach these neighborhoods have is via Cameron. While this is a direct path for those coming down from the Northwest, it adds to an already long commute for those coming from the East.
Of course students don't mind walking along the sides of busy roads, especially if running late. There's also heavy foot traffic as older students rush from NPMS/NPHS to pick up siblings. For many reasons, students were eschewing sidewalks and choosing the Balcom crossing guard instead. Hawthorne may not be as busy a street as Central, but during drop off and pickup, it's still extremely crowded.
Why Every Town Needs a Travel Plan with Routes of Travel
Obviously these were not the only concerns identified. Just looking at the above map, the red line in front of St. Luke's on South Street is now a sidewalk. Improvements have been made to the pre-existing crosswalk at Woodcrest / Waverly and South. Not pictured, but many AWR families know of the changes made to the back path off of Commerce. While significant to those affected, these were smaller items that could be more easily budgeted for.
What The Fellsway and Hawthorne issues did have was a common origin and broad neighborhood impact. They also had an expensive solution; both were prime candidates for sidewalks. Fortunately SRTS has a federal grant program for school related infrastructure improvements. Our borough often applies for these funds – and like most applicants – is usually rejected. This time around, we were successful.
Perhaps identifying a root cause or showing far-reaching impact didn't make any difference.  It certainly didn't hurt though, especially when combined with results from previous surveys. It's no surprise that compiling a travel plan is one of the ways to seek gold level SRTS recognition.  Now we understood.  Every town needs a travel plan with routes of travel.
Does this mean concerned parents shouldn't bother voicing constructive suggestions? No – keep it up! But every town should compile this useful reference for a global overview. A school travel plan isn't easy to assemble – at least here in New Providence, no one entity collects all the data. We have to work together. But having a school travel plan to consult whenever considering improvements – even those unrelated to school traffic – helps include all of our voices.
SaveSave